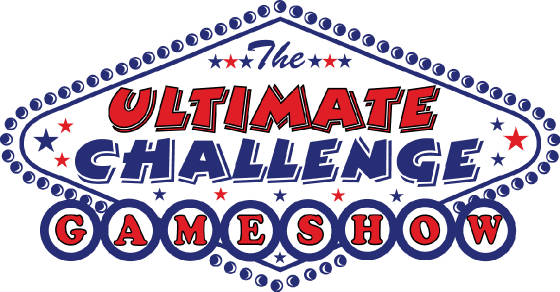 What Exactly Is The Format Of The Ultimate Challenge Game Show?
The Ultimate Challenge Game Show is a multi-round game show based on such popular games as Jeopardy, Beat The Clock, Minute To Win It, Double Dare, Let's Make A Deal and many other hit American game shows of the last fifty years. Game Play Rounds include our Trivia Challenge, The Lightning Challenge, The Audience Challenge, our VIP Challenge and the very popular Physical Challenge. Rounds are determined by several key factors including type and length of performance, size of audience and participants, staging and other related elements. Contestants compete for fun, titles or prizes as determined by your preference. Prizes or awards are not included and are to be provided by your hosting group. Three or four color teams play throughout the entire game. For additional fun and participation, the audience may also be divided into the team color sections for even greater support and team spirit.
How Long Is The Ultimate Challenge Game Show?
Game play is available in a variety of performance lengths from 30 minutes to 60 minutes for our standard show, however we may adapt the length of each performance to your needs and specifications. For specific venues such as trade shows, in store promotions and other similar events, we offer a variety of 12-18 minute games consisting of only several game play rounds. These are usually repeated several times throughout your event as needed.

What Is Required For The Ultimate Challenge Game Show?
The Ultimate Challenge Game Show is self-contained requiring only a performance area, three basic electrical outlets (preferably on own circuits), and a few simple accessories depending on the type of venue or event. We have made it easier than ever to host our event without a great deal of extras, additional requirements or equipment. Travel, accommodations and any projection equipment if desired are to be provided by hosting group.
Can We Have More Than One Game?
Yes. Many of our productions include two or more performances allowing for maximum exposure and contestant participation. Each game contents will be different, so you are actually receiving two different games, unless you prefer otherwise. Multi-performances and multi-day runs of performances are regularly available.
How Many Contestant Players Are Utilized In The Show?
That is up to you, as we offer individual or team game play. From a very basic 3 or 4 player contestants competing for the entire game, to a change of contestants for each round, to 15 - 20 players per round allowing up to 85 contestants per game are all possible. You may determine which is best for you as part of our Game Show Planner that is included as part of every booking.
Is The Game Play Limited Only To The Onstage Contestants?
No, we always try to also include audience members in each performance to create maximum fun and participation. We also offer our Audience Challenge in which our host/M.C. goes into the audience allowing them to answer trivia questions letting them gain points for their favorite color team.

How Are Contestants Selected?
Contestant selection can be done in several ways based on your preferences. Each booking of The Ultimate Challenge Game Show includes our Game Show Planner allowing your direct input of format, preferences and customization. You may select contestants based on our own criteria (academic performance, drawing, achievement, etc.) or we can do an onstage drawing as part of the performance (this can take additional time and coordination).
Is There Individual Play Or Team Play?
Both are available, the choice is up to you! For maximum participation, team play can allow for the most onstage participants as contestants and wheel spinners. Individual play is also popular allowing you to change individual players for each round if desired.

Can We Customize The Trivia Questions To The Ultimate Challenge Game Show?
Yes, both the trivia categories and the trivia questions may be customized based on your product, message, material, or preferences. This customization allows your direct input in the questions and tone of the performance(s). This allows the Ultimate Challenge Game Show to become your game show based on your choices and preferences. This allows for maximum fun, content and impact throughout the entire event.

How Can The Game Show Be Used With Our Corporate Training Events?
Training and sales meetings are very popular formats for our game show. Game play may be used as a great daily or overall review of the material covered in your educational sessions. Our game is also an ideal way to introduce, learn and then review content both individually or as part of predetermined teams. Individual and teamwork achievement is created as part of the game, allowing for a fun and memorable way of learning. The Ultimate Challenge Game Show will engage and entertain your entire group as they learn. Studies have suggested that our game shows format is a most effective tool to present and review training material, and has shown to increase information retention by as much as 35%.


So The Ultimate Challenge Game Show Is Available As Either Academic Play Or Entertainment Play?
Yes, this is the greatest appeal of the Ultimate Challenge Game Show. While many of our clients book our performances as pure fun and featured entertainment, many professionals utilize our game shows as an academic tool for learning and education. Some chose to use a combination format of "edutainment" utilizing game play consisting of both formats together.
Is The Ultimate Challenge Game Show Available For Multi-Day Or Multi-Event Runs Or Tours?
Yes, from single dates and events, to multi-day multi-show runs, to complete regional or nationwide tours, The Ultimate Challenge Game Show is available to meet your exact needs. Theater runs, promotional tours, national product launches, multi-day trade shows and conventions, fairs, festivals or theme park dates, our performances can be tailored to your dates, routing and event needs.
How Far In Advance Are We Required To Reserve Our Dates?
As soon as you decide our performances and presentations are right for you. Many of our events are booked over a year in advance, while others may be booked just a few months out, based on scheduling and our availability. We enjoy a 94% re-book ratio from previous clients, so our schedule fills up quickly, especially during prime or peak times of the year. Our best advice is to book as soon as you determine your dates in order to assure the best availability.

Is The Ultimate Challenge Game Show Available In My Area?
The Ultimate Challenge Game Show is available nationwide, and is also currently accepting some international dates on a per event basis. We have appeared in most of the United States in markets, cities and towns large and small. We welcome the opportunity to come to your area to bring a fun, memorable and successful performance to your event.

Our expert staff will be happy to answer any additional questions you may have by contacting us by e-mail or by calling our office toll-free at (866) 534-2506.