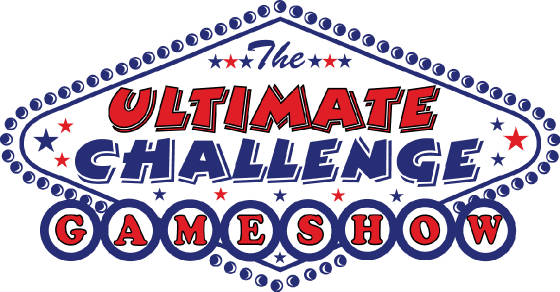 We were looking for a different idea for our PTA event. Everyone had a great time. I think the parents enjoyed themselves just as much as the students. Your host and his assistant did a great job.
Sunnydale Elementary School
Lancaster, CA

Thank you very much for coming to our school. The students really enjoyed themselves. Very fun and entertaining. The students are still talking about the Physical Challenges!
Minooka Community High School


Your students, faculty or family members become the true stars of the show
as the game contestants. Featuring a complete game show set, lockout buzzer system, electronic scoring, category game wheel, complete sound system with theme music, sound effects and audio drops, and a professional M.C,/Host. Contestants compete for points, prizes or titles.

Adaptable formats include multiple rounds of play featuring our Trivia Challenge, Lightning Challenge (Beat The Clock), and our Physical Challenge to combine into a fun performance full of comedy, laughter and surprises. Trivia questions may be customized to theme, grade levels or curriculum. Also available as a no-risk Fundraiser involving your local community.


The Ultimate Challenge Game Show is excellent entertainment for...

* Family Nights
* PTO & PTA Events
* Spirit Week
* Post Prom
* Grad Nights
* Banquets
* Ice Cream Socials

* Fun Fairs
* Scouts

* Dare Events

* Field Days

* Theme Events

* Assemblies
* Fundraisers
* State Testing Prep
* Student Activities
* Academic Competitions

* Orientation
* Sports Boosters
* Lock-Ins
* Senior Events

* DECCA Events

* Student Coucil Events

* Leadership Conferences
Each performance includes audience participation in every game. Specal pre-game rounds can also include variations of Let's Make A Deal, Name That Tune and Audience Challenges.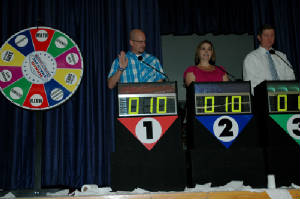 Single or multiple game performances available in lengths of 15, 20, 30, 40, 60, 75 or 90 minutes. Individual or team play available. Game play may be customized to specific needs and school requirements. Popular options include family play, students vs. faculty, students vs. family, or inner-grade, school or district events, competitions or tournaments between area schools. The possibilities are limitless.

The Ultimate Challenge Game Show is an fun and exciting entertainment for all types of student and family events.
Exciting School Spirit Entertainment At It's Best!

For Additional Information On Our School And College Programs, Assemblies, Fundraising And Entertainment
(Click The Icon Below)